October 2022 - College Access Program - Interview with Aleena G., DDC'22, CC'26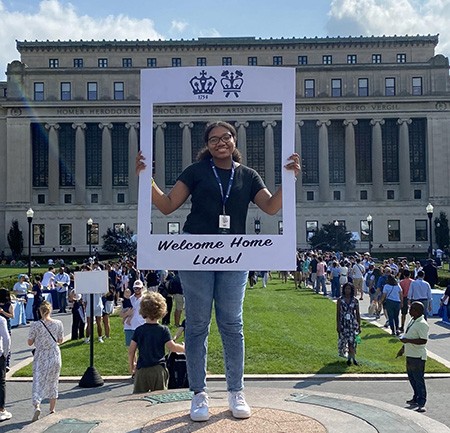 Interview with Aleena G., DDC'22, CC'26
DDC College Access Program
---
For low-income, first-generation students and their families, the college application process feels totally unfamiliar and overwhelming. Parents tend to have little experience navigating the college academic and cultural environment and overstretched public school counselors cannot offer the needed comprehensive support.

DDC College Access addresses this gap by working individually with each student through every step of the process.  Counselors explore with the students the institutions that match their personal and academic skills and strengths and accompany them on college tours. They also provide one-on-one assistance for college and scholarship applications and help them build a tailored transition plan for the "best fit" college.

Aleena G., DDC'22, CC'26

In 10th grade, the whole college process seemed so daunting! I did not know anything about college costs, financial aid or academic requirements. Meghan, my DDC counselor, really helped me break the college process into manageable small steps.  

I was not great with math then, in fact I hated math with a passion! To boost my scores, I took several related courses with Derrick, a DDC instructor who would tailor his class structure to the students and give each one personalized attention. He is now one of my favorite teachers!

In 11th grade, I became very worried about my SAT and ACT scores because I wanted to stand out as a competitive applicant. I did not want my parents to pay a lot of money for private tutors, but I was struggling. Jess, my DDC counselor, helped me find quality tutoring at no cost for SAT and ACT. This is how I was able to improve my ACT score by five points within only a few months!

In 12th grade, I wanted everything to be perfect and I had a hard time writing the essays and completing the financial aid applications on time. Here again, DDC helped me every step of the way. Leticia, my 12th grade counselor, showed me how to handle financial stress, draft essays, and apply for financial aid.

She also advised me to apply to the Gates Scholarship, and that completely changed my life! I feel so incredibly honored to have been selected as a Gates Scholar! Not only will I graduate debt-free, but I now have more time to refine my skills and give back to my community, instead of working to pay off loans. And I can even choose a job that matches my passion!

Now I am at Columbia College, my first choice, and I know that I can always stop by the DDC office when I need extra support, they are like another home for me.
 
Thank You DDC!
---
All Things ALUMNI
Opportunities: 
Alumni Survey
Please feel free to fill out our annual Alumni Survey so that we can gauge where your needs are and help you find resolutions to those needs.

Scholarship Book
We have worked hard this summer to put together a scholarship book for you all. Please follow this link for Scholarships!

Lyft Access
Free Lyft Rides to job interviews and up to two weeks of free rides once you get the job.
*Opportunity available for specific states*

DDC Volunteer and Job Opportunities: 
We are looking for mentors, career panelists, people that can provide internship/apprenticeship opportunities to our high school students, tutors and teachers (year round). If interested in giving back, please visit our volunteer page for more information. For job opportunities, visit our Careers Page on the Website. 
Other Opportunities for Alumni:
Nasa Internships and Fellowships
NASA Internships are competitive awards to support educational opportunities that provide unique NASA-related research and operational experiences for high school, undergraduate, and graduate students, as well as educators.
NASA Fellowships are competitive awards to support independently conceived or designed research, or senior design projects by highly qualified faculty, undergraduate, and graduate students, in disciplines needed to help advance NASA's missions, thus affording them the opportunity to directly contribute to advancements in STEM-related areas of study.

Interested in Law?
The Manhattan District Attorney's Office has opportunities for students to intern at one of the premier prosecutors' offices in the United States. For more information:  https://www.manhattanda.org/careers/internship-opportunities/ 
 
Jopwell Opportunities
Class of 2023: 

Depository Trust & Clearing Corporation (DTCC):Depository Trust and Clearing Corporation (DTCC) stands at the center of global trading activity, processing trillions of dollars of securities transactions on a daily basis. Their EDGE Program provides accelerated development opportunities for recent university graduates in areas such as Risk Management, Internal Audit, Information Technology, and Global Operations & Client Services. 

Class of 2022, 2023, 2024 - Business/Finance Majors 

2023 Finance Leadership Development Program

CVS Health: CVS Health's Finance Leadership Development Program (FLDP) is a three-year rotational experience designed to develop finance and accounting talent into future finance leaders.

2023 Summer Finance Internship Program + Fellowship

CVS Health (remote): CVS Health's Finance Internship Program is a program that provides students interested in a Fortune 4 finance and accounting career with an opportunity to develop financial and technical skills, learn about the healthcare industry, and develop leadership competencies.

CVS is accepting applicants on a rolling basis. Students should apply ASAP to be considered. 

To check out Jopwell's other partners and opportunities, click here. 

For any other alumni related questions, please email Yarisell Hernandez.
 
---
Double Our Discovery, Double Our Impact!
Click Here to "Change a Life"
---
Double Discovery Center
Alfred Lerner Hall, Room 306
2920 Broadway, MC 2604
New York, NY 10027
Phone: 212 854 3897
Fax: 212 854 7457