May 2022 - Congratulations DDC Graduates, You Did It!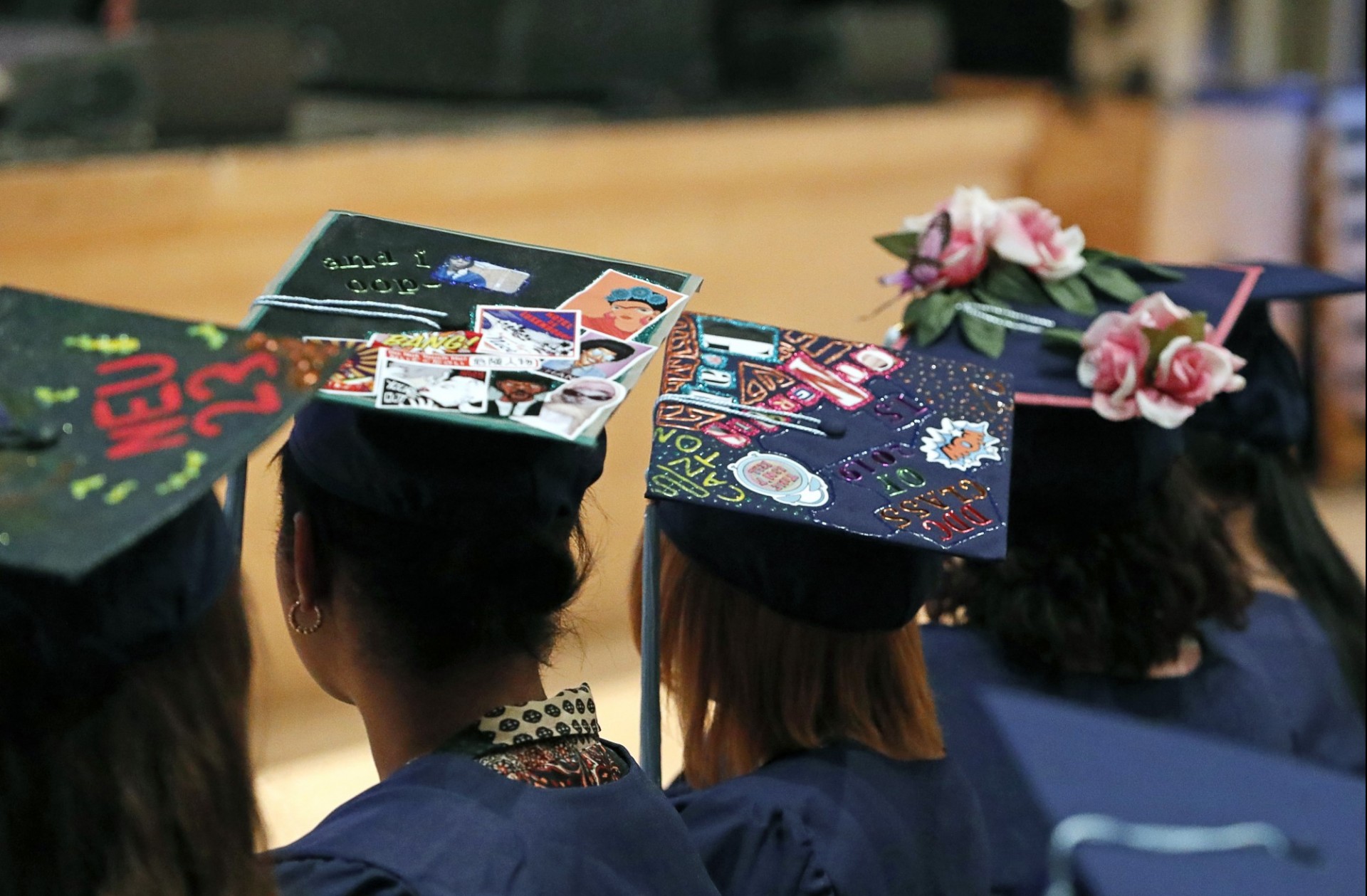 Congratulations DDC Graduates!
---
You Did It!
Your perseverance and dedication paid off, you are now college-bound! We are so proud of you and so honored that you chose to do your college journey with DDC.
We want to thank all our partners who supported our programs and helped us prepare our students for continued success.
This fall, DDC graduates will attend Barnard College, Baruch College, Columbia University, Fordham University, John Jay College, New York Institute of Technology, Pace University, University of Southern California (USC), and many more!
Aleena G., DDC '22
I started preparing for college with DDC in 9th grade. The Center opened so many doors for me and helped me so much through the whole application process. This fall, I will be a sophomore at Columbia College, my first choice! I was so shocked when I got my letter of acceptance!
I thought I would study political science because I am half Native American and I want to go into law to help my community. However, I recently took a few classes in computer science, and I realized I really liked that field too! I am so thankful for DDC's help, I want to pay it forward. I plan to volunteer at DDC as a tutor to show high school students that a great college education is within their reach. Thank You DDC!
---
From Washington Heights to Ivy League!
Thais S., DDC '21, Sophomore, Brown University
In my junior year, Brown was at the top of my college list, but I was too shy to even admit it! I thought I did not stand a chance to get accepted to this Ivy League university. If it were not for the encouragement of my DDC counselor, I might not have applied. And now I have completed my first year and I am considering a double major in computer science and public policy. I can confidently say that Brown is the right educational institution for me. I could not see myself anywhere else.
My journey to Brown started in 11th grade when I joined the DDC program. My school in Washington Heights had only one college counselor and I realized I needed more resources and guidance to maximize my chances of getting into the best college possible. As soon as I started at DDC, my counselor reviewed the application process with me, step by step by step. She introduced me to the different types of colleges to determine the "best fit," provided me with a personalized roadmap to the high GPA and test scores required for applications, and encouraged me to expand my interests with courses on unfamiliar subjects. By the end of the junior year, I felt like I had already done the worse part! In senior year, I spent hours on Zoom calls with her to finalize applications and writing essays. I will never forget these late evening Zoom sessions in the final push for my college applications!
The transition to Brown was not always smooth. It can be difficult to find your voice on campus. Coming from a public school, I was tempted to undervalue myself and feel unprepared. I had to remind myself that I did belong on this campus.
Looking back, I would encourage DDC students to start working on their college applications as early as possible – 9th or 10th grade – and follow the advice of their counselors. First-generation students do not like to ask for help, we try to do everything ourselves, but this is not the best strategy. We have to make the most of all resources available and keep track of every step, from college applications to class assignments, because both are equally important. I would recommend that students do not limit themselves to one "dream school." There are so many great schools out there, as long as they study hard and use all the opportunities DDC has to offer, they will have a very productive and rewarding college experience.
DDC means a lot to me. I have pictures of my time at DDC in my dorm room. DDC gave me much more than just academic courses and help with college prep. DDC is a community of support. Counselors are always rooting for us, pushing us when we doubt ourselves, and encouraging us to strive to do better. I am so thankful for the support and encouragement I found at DDC!
---
All Things ALUMNI
YOU ARE INVITED...
1. Jopwell's Information Session Interested in learning about various internship and career opportunities? Register Here!
2. DDC Alumni Reunion
For all DDC Alumni, Former Staff and Volunteers: Mingle over snacks and refreshments! See what's new with DDC! Register Here!
3. DDC Soiree for the High School Graduating Class of 2020 and 2021
We missed celebrating you these last few years and we would like to celebrate youth is year IN PERSON! Please Register Here!
Opportunities:
Summer Day Camp Counselor at New York Edge:
New York Edge is seeking passionate and enthusiastic people to fill the seasonal role of Summer Day Camp Counselor. In this role, you will be critical to the successful operation of the Summer Day Camp program. You will be responsible for providing a safe and positive environment for school age children, to provide opportunities for learning, interaction and academic/personal growth. Apply Here!
Emerging Artist Cohort:
The American Craft Council's Emerging Artists Cohort is a three-month intensive program, followed by continued monthly support, that cultivates the next step for independent craft artists to advance their professional careers. The program will support 10 innovative artists new to their careers who expand craft boundaries and challenge us to new perspectives. The application is due May 31st. View requirements and application Here!
Simulation Coordinator at The Columbia School of Nursing:
Simulation Coordinator reports to the Assistant Dean of Clinical Affairs and Simulation at Columbia University School of Nursing. The Simulation Coordinator will provide administrative support for the Center, including scheduling rooms and preparing simulation sessions. S/He will also be responsible for monitoring data on Simulation Center usage and other areas to enhance usage of the Center. View job requirements and responsibilities Here
Opportunities at NYCHA-CUNY (For NYCHA Residents)
The NYCHA-CUNY Resident Scholarship:
Application period begins Thursday, May 19. If you are a NYCHA resident or NYCHA Section 8participant and an undergraduate at a CUNY college, you may be eligible to apply. Apply using the NYCHA self-service porta
Career in affordable housing: 
Brooklyn Workforce Innovations (BWI), NYCHAREES, the New York City Department of Housing Preservation and Development, and Enterprise, are providing a free skills training program to connect New Yorkers residing in affordable housing with well-paying career opportunities in administrative affordable housing roles. The training program starts on Monday, May 16. Space is limited, so register today! Register for virtual information sessions on Tuesdays at 11 a.m. or Thursdays at 4 p.m. For a full list of information session dates, visit www.bwiny.org
Job Opportunities for NYCHA Residents:
Workforce1 (WF1) Career Centers are hosting virtual recruitment events for employment opportunities in Upper Manhattan on May 16, Staten Island on May 18, and Staten Island ITC on May 19.The East New York WF1 center will hold a resume workshop on May 18 .These sessions will connect qualified NYCHA residents to training and employment openings and provide the opportunity to meet with potential employers.
Security Training:
The Northern Manhattan Improvement Corporation(NMIC) is presenting training opportunities and employment services for NYCHA residents in the security industry. Training includes eight- and 16-hour security certificates, New York State security license, Fireguard Preparatory certificate, customer service training, and employment readiness training. Learn more at the May 18 virtual info session.
Constriction Business Pathways
Ready to take your construction business to the next level? Join an upcoming info session for NYCHA REES' Fall 2022Construction Business Pathways program for NYCHA residents and Section 8voucher holders looking to start or grow their business in the construction trades. Register online or call the REES hotline at (718) 289-8100.
Roundabout Theatre Company:
You can have a long and rewarding career in the theatre even if you never set foot on stage – backstage, where the action is! Round about Theatre Company offers a three-year program that trains theatre technicians in areas that include: carpentry, electrics, audio, properties, and wardrobe. Trainees get hands-on experience, mentoring, and a monthly MTA travel card during the first year. Register for the June 1 info session to learn more
Culinary Apprenticeship: 
First Course NYC is a 14-week culinary apprenticeship program comprised of eight weeks of classroom kitchen training led by experienced chefs/instructors, followed by six weeks of on-the-job training in respected New York City restaurants. To learn more, attend the virtual info session on May 24 at 1:00 PM
Homebuyer Workshop with Chase:
The workshop will discuss: preparing your finances, how your credit affects homeownership, how home affordability is determined, and the Home First Down Payment Assistance Program awarding up to $100,000 toward the down payment or closing costs. In addition, REES will raffle three $40 gift cards to workshop attendees. The virtual event will beheld via Zoom on Thursday, June 16th, 6:00 pm-7:30 pm. Registration is required.
For any other alumni related questions, please email
Yarisell Hernandez
---
Double Our Discovery, Double Our Impact!
Click Here to "Change a Life"
---
Double Discovery Center
Alfred Lerner Hall, Room 306
2920 Broadway, MC 2604
New York, NY 10027
Phone: 212 854 3897
Fax: 212 854 7457