November 2022 - Bound for the Stars! Destiny H., DDC '19, Hunter College '24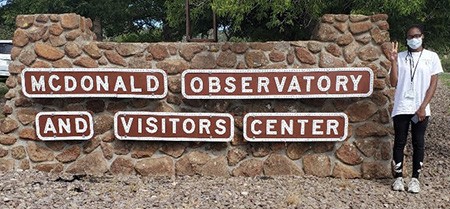 Spotlight
---
Bound For The Stars!
Interview with Destiny H., DDC '19, Hunter College '24, Physics Major

I fell in love with astronomy when I was 8 year old: my mother took me to Barnes and Nobles one day, and I came across "The Universe" by Seymour Simon, a Smithsonian Science book for children, full of pictures of stars, planets, and galaxies. I knew right there that I wanted to learn everything about the universe and its billions of galaxies.   

I joined DDC in 7th grade because I needed help in math. I took all the STEM classes and I learned that I could do anything I wanted as long as I put my mind to it and persevere. I am now at Hunter, pursuing a physics major, and I spent last summer at the University of Texas at Austin, Department of Astronomy, for a research internship in astrophysics – the study of the physical and chemical properties of objects in space. And last fall I was at NASA, for a mentoring program for science and engineering students designed to build a highly-qualified talent pool for the agency space exploration. I am bound for the stars!

This 10-week internship at UT Austin was amazing and life-changing. I studied the universe and space travel, I worked with graduate students who mentored me, and I networked with brilliant professors and faculty members. My research project was brown dwarfs, also called failed stars. These celestial objects were discovered in the mid 90's. Based on their masses, they are between small stars and giant planets like Saturn or Jupiter and they share similarities with both. They cannot produce their own energy, so they just become forever darker and colder. The study of brown dwarfs may help us understand how stars and planets are born. This research project will be covered in December in a science journal under the title "Brown Dwarfs' Variability Kicks Down the Door to Learn about its Atmosphere," and I will be listed as co-author with my mentor, Dr. Yifan Zhou, at UT Austin.   

The NASA program I did a year ago was very different but equally fascinating! The research project for my team focused on life on Mars and we had weekly workshops and talks with NASA's scientists, engineers, and technologists about the aerospace industry. This is where I realized that I was very interested in human exploration and astrobiology – the study of origin-of-life and life-beyond-Earth.

I want to be a research scientist at a space agency or a company. I have not selected a University yet, but I want to get my Master's in Physics or Astronomy. As a Black woman in a STEM field, I find it difficult to find peers with the same background and it is sometimes a challenge to maintain a healthy self-confidence. Fortunately, I have great mentors and I also keep in touch with DDC for career counseling and support for graduate school entrance exams like the GRE (Graduate Record Examination).  I am so grateful for DDC for all the opportunities it is giving me on my journey to the stars![Insert text using Normal heading]
---
All Things Alumni
Alumni Survey
Please feel free to fill out our annual Alumni Survey so that we can gauge where your needs are and help you find resolutions to those needs.

Scholarship Book
We have worked hard this summer to put together a scholarship book for you all. Please follow this link for Scholarships!

Lyft Access
Free Lyft Rides to job interviews and up to two weeks of free rides once you get the job.
*Opportunity available for specific states*

DDC Volunteer and Job Opportunities
We are looking for mentors, career panelists, people that can provide internship/apprenticeship opportunities to our high school students, tutors and teachers (year round). If interested in giving back, please visit our volunteer page for more information. For job opportunities, visit our Careers Page on the Website. 
 
Nasa Internships and Fellowships
NASA Internships are competitive awards to support educational opportunities that provide unique NASA-related research and operational experiences for high school, undergraduate, and graduate students, as well as educators.

NASA Fellowships are competitive awards to support independently conceived or designed research, or senior design projects by highly qualified faculty, undergraduate, and graduate students, in disciplines needed to help advance NASA's missions, thus affording them the opportunity to directly contribute to advancements in STEM-related areas of study.

Interested in Law?
The Manhattan District Attorney's Office has opportunities for students to intern at one of the premier prosecutors' offices in the United States. For more information:  https://www.manhattanda.org/careers/internship-opportunities/ 
 
Jopwell Opportunities
Class of 2023: 

Depository Trust & Clearing Corporation (DTCC):Depository Trust and Clearing Corporation (DTCC) stands at the center of global trading activity, processing trillions of dollars of securities transactions on a daily basis. Their EDGE Program provides accelerated development opportunities for recent university graduates in areas such as Risk Management, Internal Audit, Information Technology, and Global Operations & Client Services. 
 

Class of 2022, 2023, 2024 - Business/Finance Majors 

2023 Finance Leadership Development Program

CVS Health: CVS Health's Finance Leadership Development Program (FLDP) is a three-year rotational experience designed to develop finance and accounting talent into future finance leaders.
 

2023 Summer Finance Internship Program + Fellowship

CVS Health (remote): CVS Health's Finance Internship Program is a program that provides students interested in a Fortune 4 finance and accounting career with an opportunity to develop financial and technical skills, learn about the healthcare industry, and develop leadership competencies.
 

CVS is accepting applicants on a rolling basis. Students should apply ASAP to be considered. 

To check out Jopwell's other partners and opportunities, click here. 

For any other alumni related questions, please email Yarisell Hernandez.
---
Double Our Discovery, Double Our Impact!
Click Here to "Change a Life"
---
Double Discovery Center
Alfred Lerner Hall, Room 306
2920 Broadway, MC 2604
New York, NY 10027
Phone: 212 854 3897
Fax: 212 854 7457